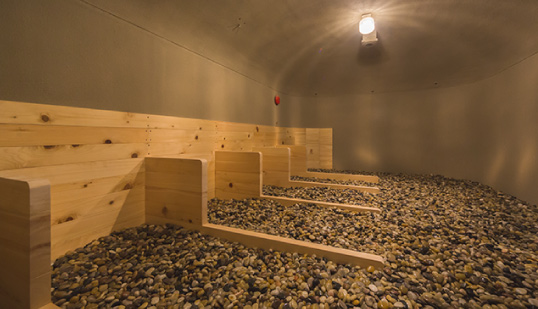 Steam baths and mist baths with medicinal properties
One of Japan's unique immunotherapy methods is the use of hot springs to assist the treatment of illness and injury.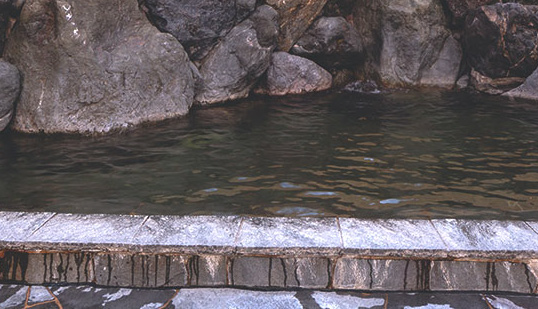 Outdoor baths
In addition to a pagoda-style bath, the men's bath features a stylish rock bath. The women's bath features two unique options—an aesthetic bath and a spin-jet bath, both of which are enjoyed while standing up. Relax in a delightful bath while enjoying the fresh outdoor air.
*The aesthetic bath and spin-jet bath have deep bottoms. Consequently, children are not permitted in these baths.
High-concentration carbonic acid hot springs
The powerful vasodilation action of these hot springs is thought to have an outstanding effect on peripheral blood circulatory failure. Consequently, the hot springs are broadly used in treatment and hot spring therapy. Since long ago in Germany, these hot springs have been used as "heart hot springs" for treating high blood pressure. There are only a few places in Japan where it is possible to bathe in natural carbonic acid hot springs. However, by developing a method to produce outstanding artificial carbonic acid hot springs, there are currently many medical institutions which use "high-concentration artificial carbonic acid hot springs" to treat blood flow disturbances.
High-temperature sauna

No. 1 in terms of intense perspiration and refreshment! Don't forget to drink liquids!

Jacuzzi

Water flowing from the jets will massage your shoulders, lower back, and feet, refreshing your mind and body!

Body temperature hot spring

Our body temperature hot spring has a temperature which is close to the temperature of the human body. Perfect for enjoying a leisurely bath.

Aesthetic bath

Experience the refreshing feeling created by the strong flow of water.

Herbal hot spring

The water in this bath features a special blend of kanpo (traditional Chinese herbal medicine) which pleasantly warms your body.

Sleeping bath

Stretch out, relax, and give your body over to this bath…you will soon find yourself in the midst of dreams!

Electric bath

This bath uses the massage effects of pushing, kneading, and firm tapping for the ultimate in relaxation.

Shisui hot spring

>Relax and stretch out your arms and legs in this large bath.

Sitting bath

Leisurely enjoy this hot spring in a comfortable sitting position.

Cold bath

Nothing beats a cold bath after the sauna! The cold bath will quickly contract skin pores which have opened while perspiring in the sauna.